Model investment portfolio updates from Artifex Financial Group

Artifex Financial Group is committed to providing our clients with the best possible investment experience. Our model investment portfolios are updated on a regular basis to reflect changes in market conditions and our current thinking about the best way to achieve our clients' financial goals. In this post, we'll provide an overview of recent updates to our model stock portfolios. We hope you find this information helpful as you continue to work with us toward your financial goals. Thanks for reading!

The AFG team has been busy this past year, in a challenging financial cycle.
The AFG investment team has been hard at work over the last year, researching and making adjustments in one of the most challenging financial markets in history. Our team is relentless in its pursuit of uncovering potentially lucrative opportunities for our clients to benefit from. Whether it's assessing long-term holdings or implementing promising ideas, we are dedicated to developing a successful plan that produces maximum returns while managing downside risk. This rigorous approach helps to ensure that our clients maintain their purchasing power over time and achieve their lifetime financial goals. Despite a tumultuous end to last year with record highs and lows, AFG's strategies showed resilience as we look forward to 2023 with anticipation.

Listed below are some year-end investment portfolio statistics: (The following information may not be representative of the experience of an individual client, as very few people invest only in stocks. It would be safe to say that a "typical" investment portfolio does not have more than a 40-80% weighting to stocks of any kind (international, small, mid, large, etc.). And some investors prefer investing in ETFs and mutual funds. Additionally, portfolio size considerations may dictate whether or not holding individual stocks makes sense from a diversification standpoint).

Cloud 9 Technology Investment Portfolio
The AFG Cloud 9 Technology Investment Portfolio is an aggressive growth model with a concentration in 9-12 holdings at any given time. The return on this model was -30.03% in 2022 compared to -33.09% for the NASDAQ Composite index. These negative returns were driven by an extremely bearish environment for technology stocks. Since its inception (01/2010), the Cloud 9 Portfolio has returned on average +15.11% per year vs. +11.87% for the comparison benchmark. This portfolio is truly a testament to the power of technology and its ability to create unprecedented ROI opportunities for the savvy investor.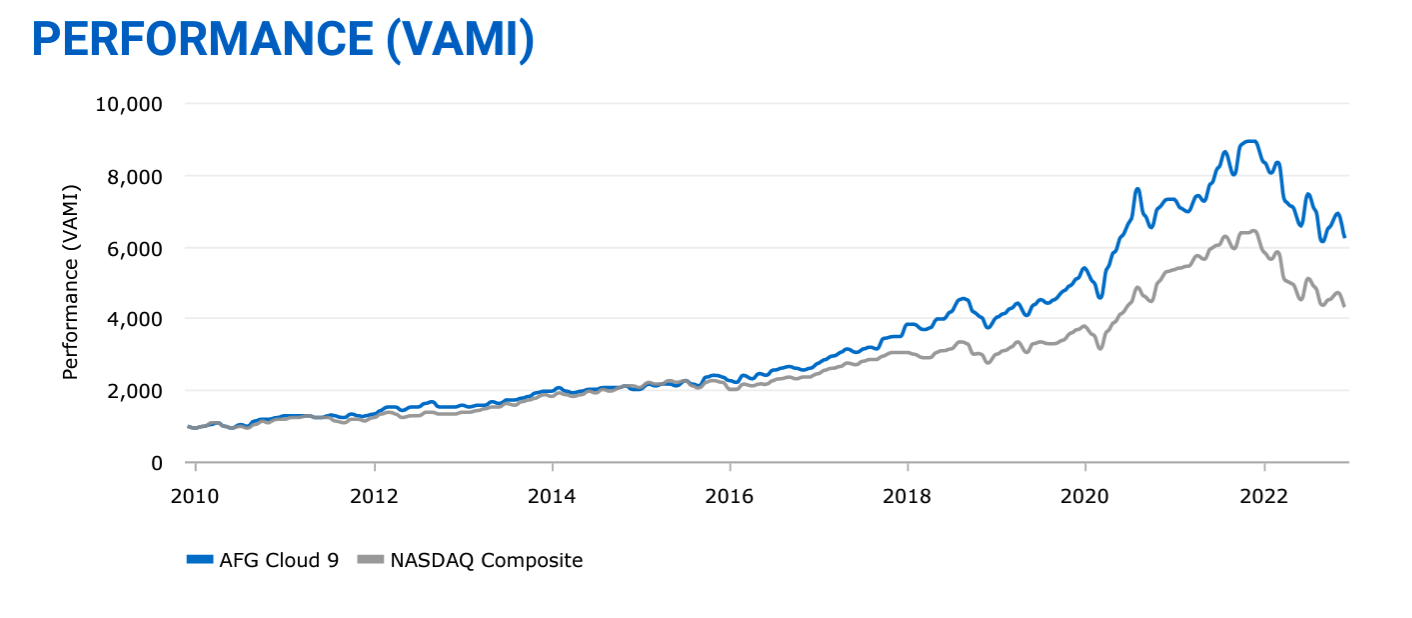 Large Cap Core Investment Portfolio
The AFG Large Cap Core Investment Portfolio finished the year at -8.27%, which compares favorably to the -18.10% return of the S&P 500 index in 2020. Since inception (10/2008), the portfolio has averaged +12.54% per year vs. +10.95% for the comparison index. It features a stable mix of large-cap U.S. stocks designed to help offer more consistent performance during economic cycles and flat markets.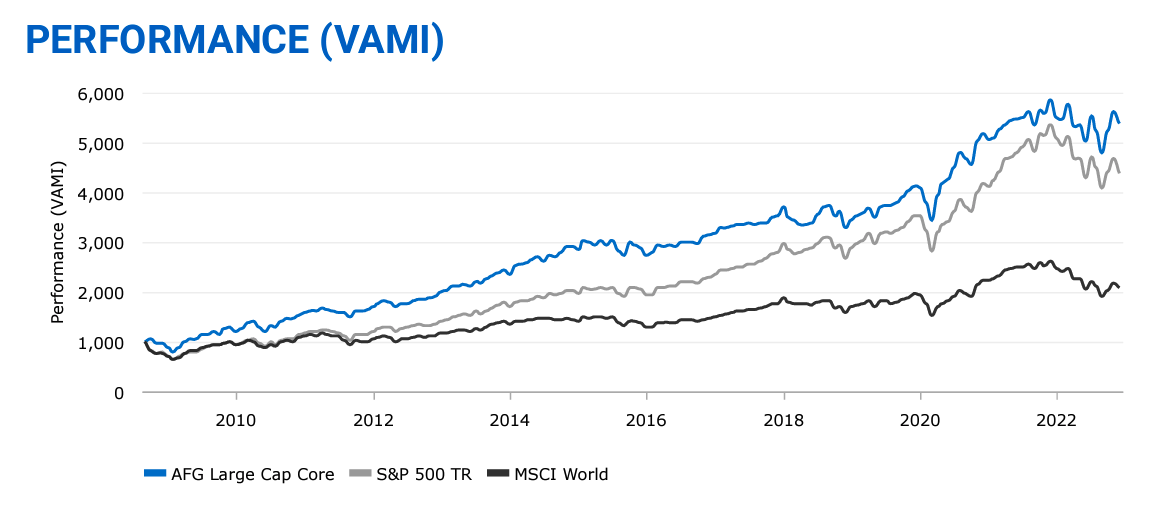 The AFG SRI Investment Model

This portfolio is a core equity model that appeals to a variety of environmental, social & governance (ESG) concerns. The AFG SRI Investment Portfolio continues to prove itself as a strong and consistent performer. Despite the tumult in 2022, the portfolio finished the year down only 12.21%, outperforming the S&P 500 Index by 5.89% and the iShares MSCI KLD 400 Social Index Fund by 10.53%. Since its inception (4/2014), it has averaged 9.91% per year vs. +.25% for the comparison index. Investing with an eye towards ESG goals has never been more important or attractive to investors than right now, making this portfolio worthy of consideration for those interested in ESG.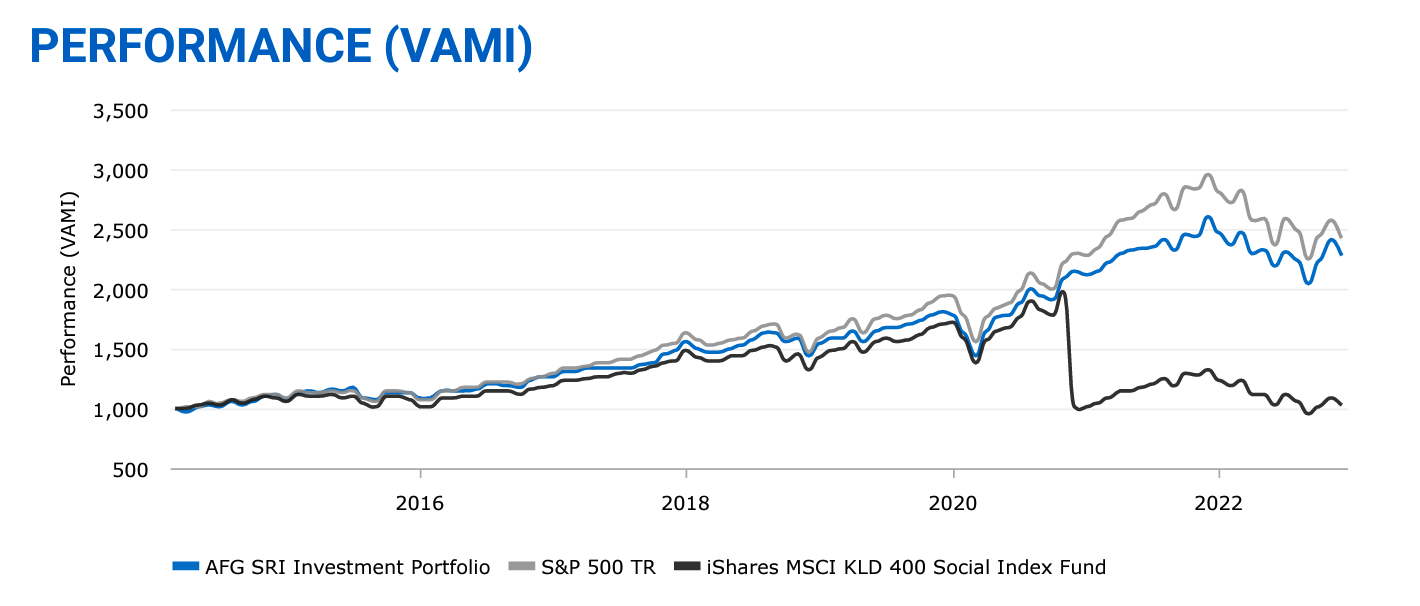 The AFG Dividend Equity Model

This portfolio of individual stocks focuses on high-quality companies that pay dividends. In 2022, it finished the year down 4.24%, compared to -9.69% for the iShares Russell 1000 Value ETF. Since its inception, (4/2009), it has averaged +12.60% per year vs. +10.03% for the comparison index.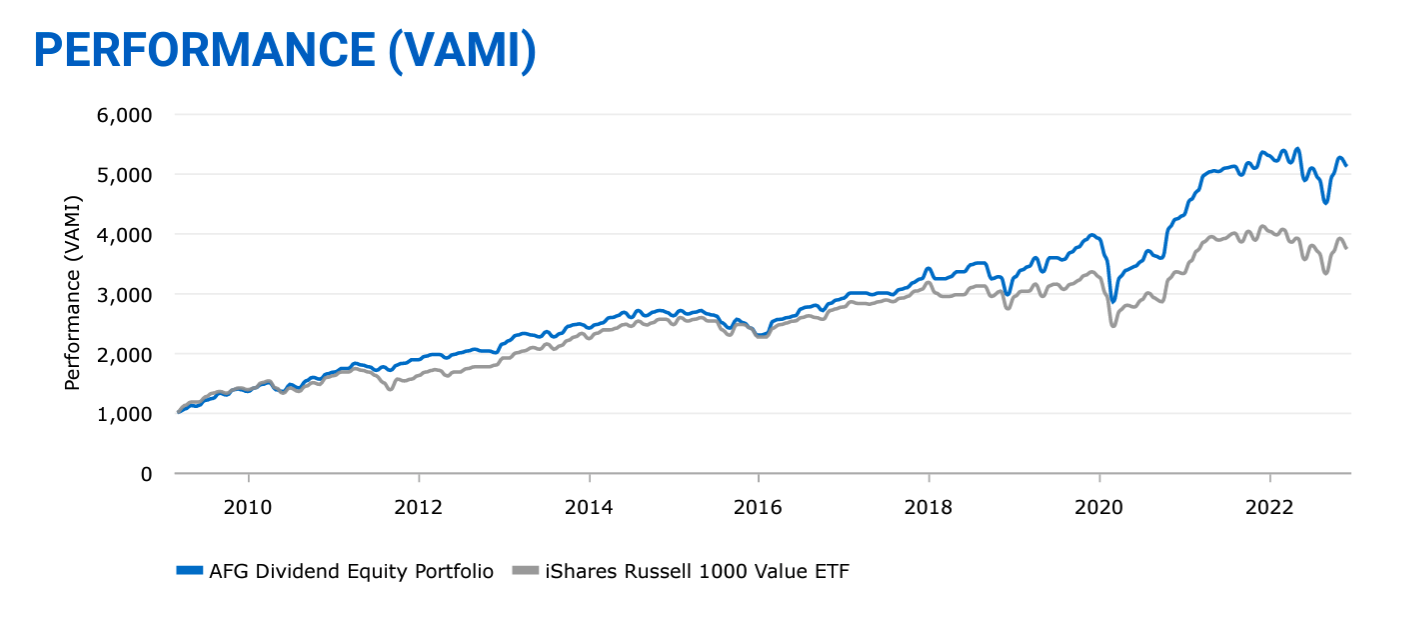 We're proud of the work we've done this past year and we're looking forward to continuing to grow your portfolios. Our team is committed to finding new and innovative companies that are changing the world and we're excited to see what the future holds. Stay tuned for more detailed reports on each of these investments, or click here for more information.

It is important to note that past returns are not necessarily indicative of future results. Investors should be aware that investments in securities, such as stocks, bonds, and mutual funds, involve risk and may result in potential losses.