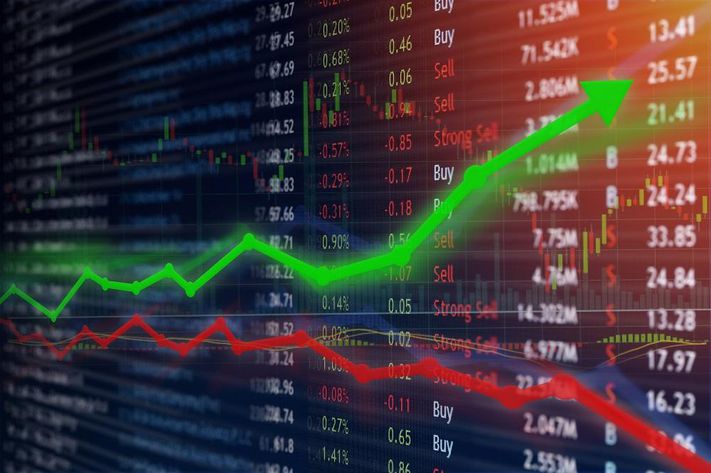 October 7, 2019
Global equities opened the third quarter of 2019 amid a sharp selloff, followed by an extended period of advances and declines within a wide trading range, a sustained rally to near all-time highs and finally, late in the period, a moderate decline. At the close of the quarter, net results were mixed with most domestic indexes posting small gains. International and Emerging Markets issues finished modestly lower, pressured by slowing economies and US dollar appreciation.
Relative strength in small capitalization and value equities began to appear last month after a long period of dormancy. We expect long term outperformance from these more volatile stocks compared to large capitalization and growth companies that dominate indexes such as the S&P 500. Historically, however, net outperformance has been observed in surges following extended periods of underperformance. As we enter the final quarter of the year, whether the recent upswing in these riskier equities will continue is unknowable.
Trade and politics dominated short term influences on the markets, which is nothing new for 2019. Throughout the quarter, economies across the globe continued to generally weaken, notably Germany and China. Alarmed predictions that the slowdown would spread to the US were rampant. Softness in the manufacturing sector spooked investors late in September and fueled press reports from numerous financial pundits that a domestic recession is unfolding.
For the most part, these predictions and negative index results produced only short term reactions before positive data revived investor spirits. Employment gains were uninterrupted in the quarter but were less robust than a year ago, albeit still solidly positive. Performances of key global, broad-based equity indexes for September, the third quarter and YTD through September 30 are below.

In the US, back to back months of contracting manufacturing activity and diminished purchasing agents' expectations were the first tangible signs the economy might be slowing its expansion. The Institute for Supply Management's (ISM) manufacturing index fell below 50.0% in August and a further 1.3% decline to 47.8% in September brought the index to its lowest level since 2009. New orders however, ticked up 0.1% in September from August's level of 47.2%[1] Readings below 50.0% in these indicators are signs of contracting US manufacturing activity.
One important consideration is that striking workers at General Motors, who have shut down production since mid-September, may have negatively distorted the latest readings. The magnitude of any influence is undetermined at this point, but logic suggests a work stoppage at GM would impact US manufacturing activity and purchasing manager orders. It will be instructive to review upcoming reports through this lens.
In third quarter credit markets, the main event was a mid-September ¼% cut in the Fed Funds rate. The reduction had been widely expected. Yields bottomed near historic lows earlier in the month after declining steadily throughout August.
At the end of the quarter, results showed that the US Treasury's five-year note yield had declined 21 bps to 1.55%, the ten-year yield was off 32 bps at 1.68% and the 30-year bond yield slid 40 bps to 2.12%. At the short end of the curve, rates remained higher than intermediate and long term instruments. The 30-day T-Bill yield dropped 17 bps for the quarter to 1.81%, near the lower end of the new Fed Funds target range.
After a quick uptick post the Fed's announcement, yields again retreated and are currently close to last month's lows. Short rates have sagged below the 1 ¾%-2% target range for Fed Funds, dipping to 1.66% at this writing. Traders see a high probability of another ¼% cut at the Fed's next meeting in mid-October.[2] The late quarter retracement to lower yields has contributed to a recent series of new all-time highs posted by the Dow Jones Utility Average.
As we have posited previously, recent lows in Treasury yields are likely to hold, given the current rate of annual inflation at roughly 1.5%. Falling rates in Europe, including negative yields in Germany, have drawn lenders to the US credit market, supported additionally by the dollar's strength. The persistent uptrend in the greenback's value against the Euro and the UK Pound, among others, has doubtless been a factor slowing exports, a factor in the manufacturing activity slowdown. The chart on the following page illustrates the past two years' closing prices of the Dow Jones US Dollar Index.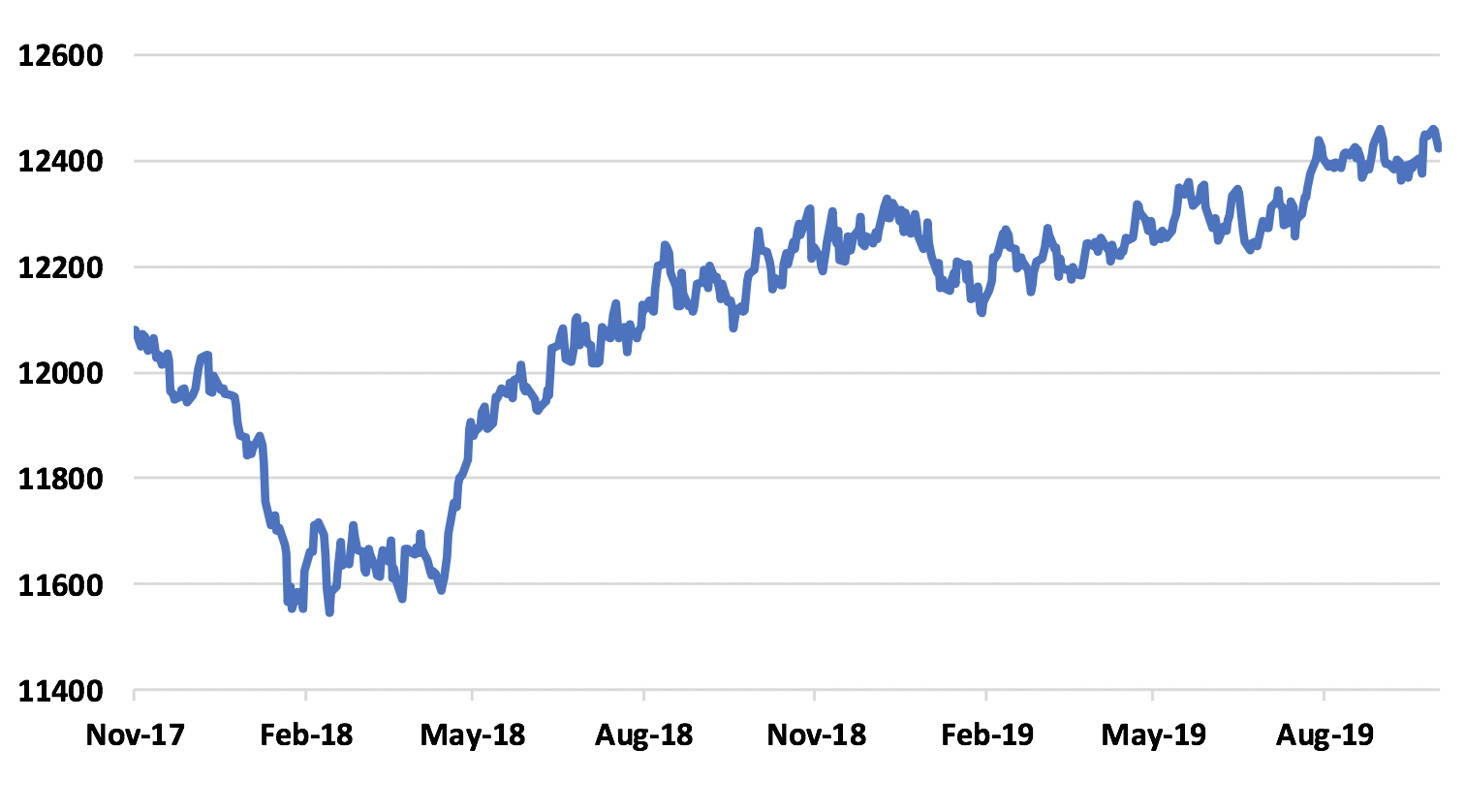 Source: MarketQ quotation platform, www.esignal.com
US export prices have been increasing in most local currency terms since mid-April 2018. The dollar's strength has also somewhat insulated domestic corporations and consumers from tariffs the Administration has set to compel trading partners' renegotiation of existing agreements. South Korea, Japan, Mexico and Canada (pending Congressional approval of the USMCA) have reached trade agreements with the US this year. China chose to devalue its currency to offset US tariffs on many imports from China. Negotiations between US and Chinese trade representatives are scheduled to resume imminently.
What is the source of the dollar's strength? A simple answer is that US interest rates remain higher than in many other major credit markets. A less visible, but equally important reason is that the US economy is still expanding as much of the rest of the world contracts. The current rate of inflation, as noted above, in our view, suggests further cuts by the Fed after the anticipated October action may be less likely over the balance of this year absent further deterioration in domestic economic activity.[3]
Two ongoing political conflicts continued unabated in the third quarter. First, in the UK, the new PM, Mr. Boris Johnson is tasked with finding a way to deliver Brexit despite considerable resistance in Parliament to a withdrawal from the EU without "a deal."
Johnson's gambit to increase the likelihood that Brexit would occur by suspending (prorogating) Parliament was ruled unconstitutional by the British Supreme Court. The September 24 ruling was met with incredulity as prorogation is not unprecedented. The Court cited the "extraordinary circumstances" surrounding the effort to suspend in its decision.[4] The PM has resisted calls for his resignation after losing the case and has reportedly begun evaluating possible alternative means to reduce the time Parliament is in session prior to the October 31 Brexit date.[5] Whether or how UK separation from the EU will occur on the designated date remains unclear and undecided.
At home, another chapter in the attempt to impeach President Trump was opened late in September. An individual believed to be a CIA/NSA insider filed a complaint with the Intelligence Community's Inspector General alleging illegal activities by the President during a July call with Ukraine's President, Mr. Zelensky. The document has been turned over to the House Intelligence Committee. In the days after its public release, the complaint's authorship and questions of who knew what and when in Congress have become increasingly disjointed.
As is his wont, the President fought back against charges he engaged in unlawful activity on the call in question and quickly released a transcript consisting of contemporaneous notes by person(s) present. Markets seem less worried about possible removal of the President from office than a potential slowdown in economic activity, judging by equity market movements as a barrage of news and accusations asserting improper Presidential conduct has unfolded over the past 10 days.
The US economy is showing signs that a global economic slowdown may be affecting its ability to maintain previous rates of expansion. However, much data continues to support the idea that we are in a pause, rather than a downturn. The torrid pace of 2018 has cooled somewhat but whether this is a descent into recession or simply a return to more historically average numbers cannot be reasonably determined or predicted.
Investors who have stuck with their long-term plans have been well rewarded with strong YTD equity and fixed income returns through the end of the third quarter. Discipline is sometimes difficult to maintain in the face of "shocking" political and economic news reporting, but those who avoid being unduly influenced by noise surrounding these topics and remain focused on their goals will maintain a higher probability of ultimate investment success.
Byron A. Sanders
Investment Strategist

[1]"Dow Industrials Drop as Manufacturing Data Disappoints," www.wsj.com, October 1, 2019.


[2] "Traders up bets on October rate cut from Fed after second ISM miss in a week," www.reuters.com, October 3, 2019.

[3] "Markets now see a 90% chance Fed will cut rates this month after weak services data," www.cnbc.com, October 3, 2019.

[4] "Johnson's suspension of parliament unlawful, supreme court rules," www.theguardian.com, September 24, 2019.

[5] "What happens now the Supreme Court has ruled Boris Johnson broke the law by suspending parliament?" www.businessinsider.com, September 24, 2019.