The past two weeks have not been kind to worldwide equity investors. After the most recent peak for broad domestic equity indexes at the beginning of May, prices have trended generally lower dragging International indexes lower as well. Trade tensions, including newly announced Mexico specific tariff threats, and worries about the health of the US economy have combined to unsettle equity markets. The chart below details the DJTMI over the past 12 months.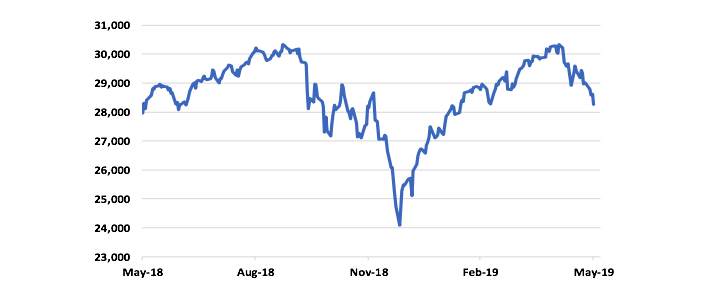 In the US, downward pressure on interest rates has prompted some market observers to publish recession predictions. Warning of a recession during a period of generally falling interest rates is somewhat counterintuitive. Nonetheless, credit market pundits are pointing to the reemergence of the Treasury yield curve inversion that appeared briefly earlier this year as confirmation the bond market is signaling a recession.
In our experience, it would be anomalous for generally softening interest rates to be the precursor of a multi-quarter contraction of US economic growth, which is the definition of a recession. Typically, business cycle downturns are preceded by periods of rising borrowing costs and/or accelerating inflation, reflecting strong demand from corporate borrowers for short term credit and increasing costs for raw and finished products that outstrip the ability of companies to maintain profit levels by raising prices.
The current situation, however, includes strength in the US dollar, downward pressure on intermediate and long term US Treasury yields and "spooky" equity markets hanging on every report of progress or breakdown in US/China trade negotiations. The onset of increased tariffs applied by the US on Chinese imports could certainly increase production and end user costs in the US, unless Chinese exporters reduce their prices, but the idea that this escalating "conflict" will logically end in a US recession seems a stretch, at this point.
Inflation in the US remains at benign levels (<2%) so an alternate explanation for the decline in interest rates (other than impending recession) could be that the Fed's measured increases in short rates last year pushed them too far above the existing inflation rate. Buying in the US Treasury credit markets has pushed yields at all points on the curve lower over the past two weeks. Excluding the shortest maturities, yields have declined roughly ¼% over that period. At the shortest end of the curve, 91-day T-Bill rates have also dropped and are trading close to the bottom of the Fed's target range of 2 ¼-2 ½ %.
Our reading of these developments is that the Federal Reserve is likely to feel increasing pressure to reduce its target for short term borrowing costs. Low inflation and strong demand for intermediate and long-term Treasury instruments is a statement from the bond market that short rates are out of sync with inflation expectations, a significant component of bond prices. If statistical inflation (CPI, PPI) remains at recent levels, well below 2% annually, short term rates at over 2 ¼% are a potential drag on the economy. The chart below illustrates the change the US Treasury yield curve since 12/31/18. Note the 5-year rate has now dipped below 2%.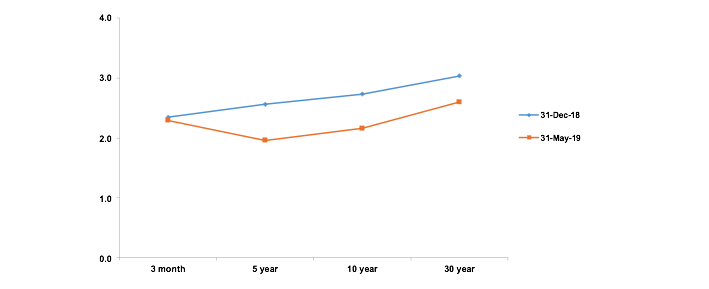 With 5-year and 10-year yields trading below the 91-day T-bill's and bill rates close to the lower end of their target range (2 ¼%), the Fed is faced with a dilemma. Inflation and yields in intermediate and long-term maturities are suggesting short rates are relatively high. But if the Fed now lowers its target to 2-2 ¼% in response to market signals, will investors panic and assume the economy is sliding into recession? Perhaps, but in our opinion, that would likely be an inaccurate conclusion, based on currently available data.
An alternate interpretation of recent equity weakness is that investors are discounting a potential slowdown in corporate earnings growth rates during the second half of 2019, which could be the result of reduced trade flows or increased raw material import costs affecting P&L statements. Similar fears in advance of first quarter 2019 results were partially blamed for the November-December 2018 selloff.
Recall press reports and analysts' predictions of a gathering 2019 recession concurrent with that weakness. Recall as well, that the anticipated slowdown in first quarter earnings growth largely failed to materialize. March 31 earnings reports were generally flat to higher compared to first quarter 2018 levels and produced numerous positive surprises. Recent price declines may be a readjustment of earnings growth rate expectations for the second half of 2019, in which case, expected returns from equities are, by definition, rising as prices sag.
Recessions are, at a high level, the result of production bottlenecks, contracting credit availability and overheating inflation or wage growth that outpaces the rate of corporate earnings expansion. None of these conditions appears to be present in the US economy at this point.
A word about the ongoing trade talks between the US and China. It is statistically true that the US has the upper hand in this struggle by virtue of the value of imports from China consumed by the US balanced against the value of Chinese imports from the US. We have argued that the ongoing imbalance in these two values creates an asymmetrical advantage for the US in the negotiations. There simply are not enough Chinese imports from the US to enable them to lay tariffs on a one-to-one basis.
A new agricultural wrinkle has emerged that may create even greater leverage for the US. An army worm infestation attacking Chinese corn crops is spreading rapidly, threatening significant reduction in harvest yields. In addition, an outbreak of African swine fever resulted in the recent forced slaughter of roughly 20% of swine stocks.1
The newest tranche of Chinese retaliatory tariffs targets US agricultural exports, including pork and corn. Increasing Chinese consumer costs as a result of tariffs will exacerbate the impact of domestic shortages due to disease and insect damage. In the US, corn yield expectations are plunging as adverse weather and historic flooding have delayed plantings. Saturated soil in the Midwest is forcing significant percentages of late plantings (after May), which can be expected to negatively impact new crop yields.2
The twin factors of insect damage in China and reduced harvests in the US are boosting corn prices, which have risen to 2-year highs in US futures markets (below). Whether these factors soften the Chinese negotiating position remains to be seen but the deleterious impact on Chinese food supplies as US imports are slapped with tariffs is potentially significant.3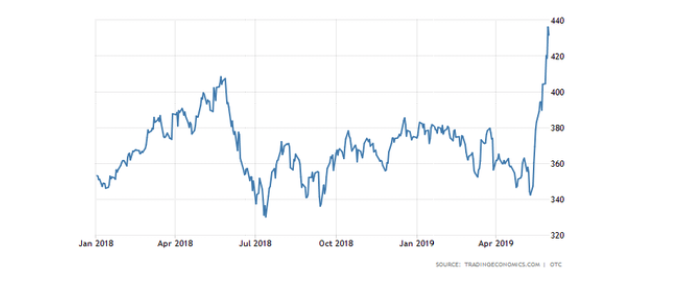 It is important to remember that the financial press and TV pundits thrive on negative reporting and downturns in the equity markets. Pessimism and fear sell better than optimism and confidence.
Despite hand wringing in the press that a trade war induced recession is upon the US, a rising dollar and bond market are keeping borrowing costs low, which hardly supports a dark outlook. Market pressures could well force the Fed's hand and result in a short term rate cut. It's also instructive to realize that if fears that an expanding trade war will precipitate a US recession were accurate, it is unlikely that we'd be "reading it in the papers."
____________________________________
1"Armyworm to bite China's under pressure food supply within two months as trade war tariffs limit US crop imports," The South China Morning Post, www.scmp.com, May 22, 2019.
2"Corn futures gain 15% in May as soft commodities rally on Midwest flooding," www.cnbc.com, May 29, 2019.
3Op. cit., www.scmp.com.