July 19, 2019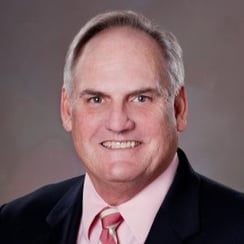 Broad based US equity indexes posted new all-time highs over the past two weeks, with the most recent peaks on July 15. In addition to the widely followed Dow Jones Industrials and the S&P 500, the DJTMI and NASDAQ Composite index have all bettered previous highs, some dating back to the beginning of 2018.
Large capitalization equities are the best performers in this year's rally. Small capitalization equity indexes have not confirmed the broad strength of their larger counterparts to date. The Russell 2000 and Russell 2000 Value indexes remain well below their historic highs, in fact both these measures of performance in the smaller sectors of the markets remain more than 10% below levels needed to duplicate the heights attained by large capitalization benchmarks. A two-year chart of the DJTMI, which includes both large and small equities, clearly shows the continuing overall strength of the US equity market.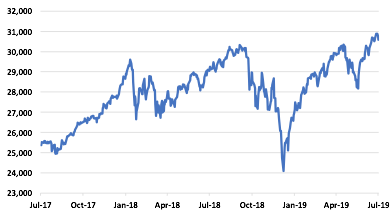 Source: MarketQ quotation platform, www.esignal.com
The above chart is a brilliant illustration of the tenet that long term returns are built "on the back" of short term volatility. In two years, the index has risen from roughly 25,500 to its most recent high just under 31,000, a net gain of more than 21%. But the advance has not been without significant declines. Investors reacting to news items or dire predictions could well have been chased out of their positions by sharp selloffs in the first quarter of 2018 and again later that year during the nearly 2 ½ month decline from early October through Christmas Eve.
Those who focused instead on their long-term plan and remained invested were rewarded with a better than 20% gain (not including the positive effect of reinvested dividends). As we have often stated, it may sometimes seem easy to detect or to react to short term changes in market sentiment and move to cash or reduce exposure in anticipation of a market decline. The problem then becomes accurately identifying a signal to reenter the equity markets. That is an elusive, problematic task guaranteed to frustrate even the most sophisticated trader, let alone the average investor. Emotions are the greatest enemy of prudent investing. Ignoring them to the best of one's ability increases the probability that a long term plan will be successful.
International and Emerging Markets indexes have mirrored the recent strength of domestic equities but remain well below their all-time highs. The economic world outside the US remains in a persistent slowdown, especially in China. Notice the distance between early 2018 highs and recent levels in the below chart of the MSCI EAFE index of Developed Markets.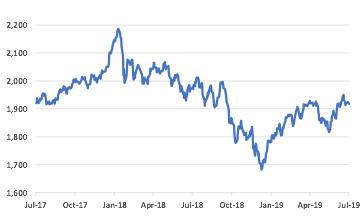 Data courtesy MSCI, used by permission
This widely followed index of Large and Mid-Capitalization non-US equities has recovered from last year's lows, but remains some 11% below its January 2018 high, reflecting slowing economic expansion outside the US' borders.
What accounts for the disparate performance? A solid guess would be that the US has reversed the regulatory encroachment of government regulation on private business that characterized the first 15 years of this century, reduced taxes and stripped away myriad restrictions on the economy promulgated by a far-reaching, virtually unaccountable bureaucracy.
None of these initiatives have been duplicated abroad by the EU or elsewhere around the globe, at least not to date. Populist movements in Europe are likely, in part, a reaction to the strong and pervasive influence of governments on economic activity. Aside from the Brexit movement in the UK, however, little change has been forthcoming in response. The US is busy reducing the role of government in its economy and it is obvious that investors in US equities have reacted positively.
The US Treasury yield curve remains largely unchanged from its recent moderately inverted configuration with 5-year notes trading at a roughly 30 basis point discount to the lower end of the Fed Funds rate range of 2 ¼%-2 ½%. Chairman Powell has made abundantly clear that the Fed's intent is to lower the range by at least ¼% at their upcoming July meeting.[1] The 3-month T-Bill yield has been hovering just above 2% for the past month, anticipating this action. Should the 5-year discount persist, which seems likely if the Fed reduces only ¼%, the inversion will sustain an argument for additional cuts by the Fed in the second half of 2019.
Domestic statistical measures of the US economy's condition as of the end of the second quarter are still being posted. Suffice to say, however, that judging by the relative performance of US and International equity benchmarks presented above, the US remains in a strong expansionary mode while the rest of the world is struggling.
China is in a difficult economic situation. The growth rate of their economy is in a downtrend with the latest reading at a 27 year low of 6.2% (annualized).[2] US tariffs combined with a steady exodus of foreign businesses to countries unaffected by these levies are having tangible, negative impacts. Chinese companies that have relied heavily on abundant, government sponsored credit are suffering as a sharp reduction in foreign trade has slashed revenues, threatening their ability to service existing debt.[3]
China needs a trade deal that reduces or eliminates punitive tariffs on goods imported by the US to reverse its growth downtrend. Negotiations restarted shortly before last month's G-20 meeting but to date, no news has emanated from the talks. US equity markets seem to have reached the conclusion that the impact on US economic growth will not extend beyond what has already been factored into prices over the past 18 months. It is impossible to know the timing of any agreement or indeed, if one will be reached.
Investors focusing on a long term plan have been rewarded by strong equity performance in 2019. It is certainly unreasonable to expect the trade and economic contractions gripping the rest of the world to not affect US equity markets, but to what extent and when is impossible to determine in advance. Patience and tuning out day to day "noise" from the press and pundits will increase the overall probability of financial success.
Our next blog post will be in mid-August due to upcoming vacation.
Byron A. Sanders
Investment Strategist

[1] "Powell Says Fed Has Room to Cut, May Have Kept Policy Too Tight," www.bloomberg.com, July 11, 2019.

[2] "China's State-Driven Growth Model Is Running Out of Gas," www.wsj.com, July 17, 2019.

[3] "Strains Emerge in China's $3 Trillion Financing Market," www.wsj.com, July 11, 2019.