The Fed Blinks
January 31, 2019

World equity prices have extended their January uptrend over the past two weeks. Most broad-based indexes have recovered more than 50% of the declines that ended on December 24, 2018. Progress on resolution of trade disputes with China and reduced anxiety over the course of short-term interest rates appear to have flipped investor sentiment 180° from late December.
On January 30, the Fed's Open Market Committee (FOMC) addressed last month's investor consternation surrounding future rate policy. After its monthly meeting concluded, a press release outlined upcoming 2019 FOMC activity and indicated that no additional rate hikes are pending at this time. Patience and avoiding negative impact on the domestic economy have replaced rate "normalization" as prime directives.[1]
In its comments, the FOMC pointed to currently low US inflation and slowing economic growth in Europe and Asia as its rationale to suspend increasing borrowing costs.[2] The Committee concluded that risks to the US expansion from International growth slowdowns increased in the fourth quarter of 2018. In December, recall that the post-meeting press release contained news of a ¼% short rate increase and announced at least two additional upticks during 2019. As the chart below illustrates, expectations are now 97.4% that rates will remain in the current range after the Fed meeting in March.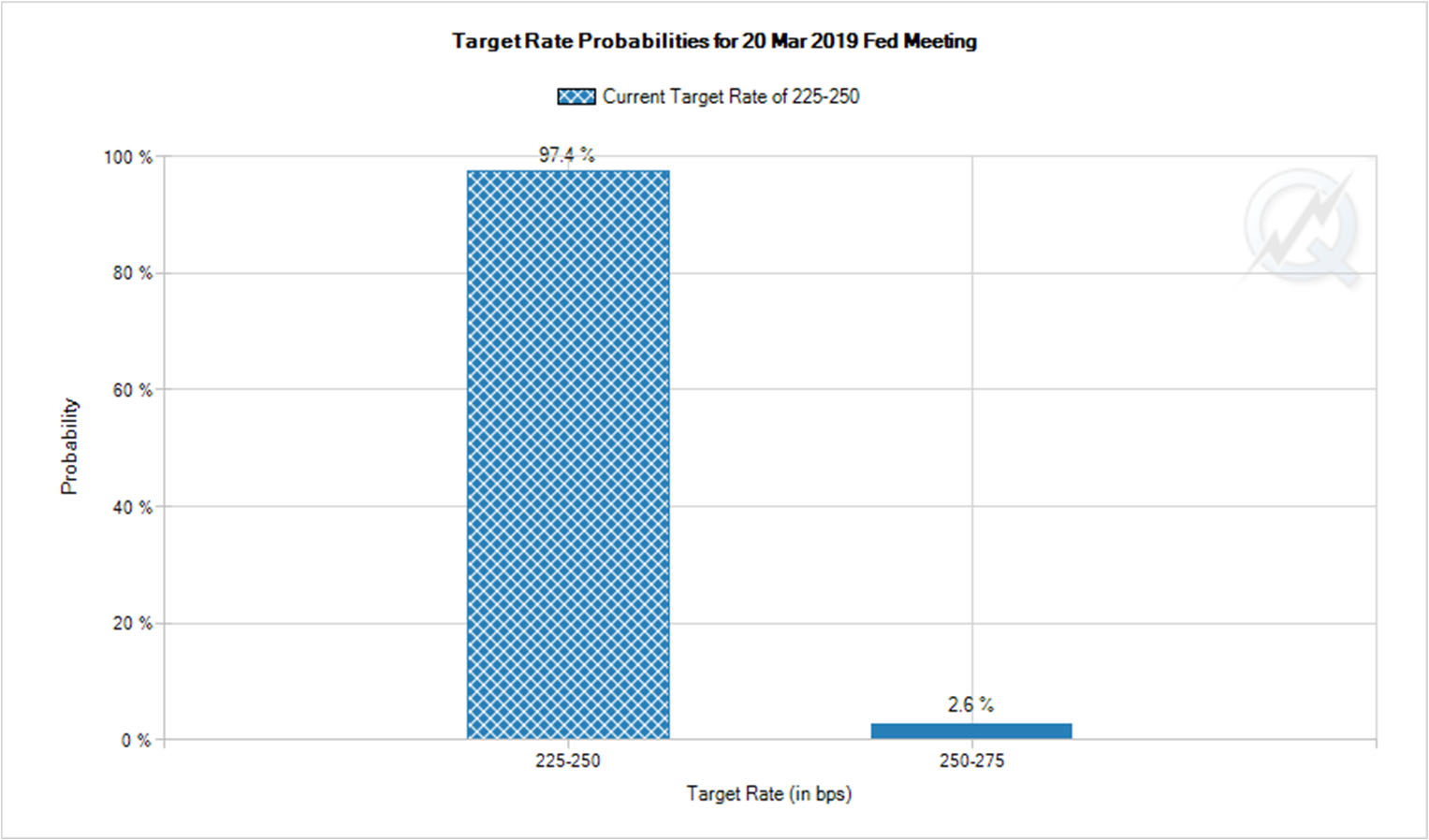 Source: CME Group, www.cmegroup.com
The most succinct description of current Fed policy came from Chairman Powell at his news conference after the meeting, "The case for raising rates has weakened somewhat." [3]
Since the end of 2018, there has been virtually no net change in the US Treasury yield curve except for the five-year and ten-year notes, which have declined modestly. The short end of the curve, the 91-day T-Bill, is in line with the most recent annual reported CPI inflation rate of 1.9%.[4] The Fed's monetary policy stance is neither accommodative nor restrictive as a result.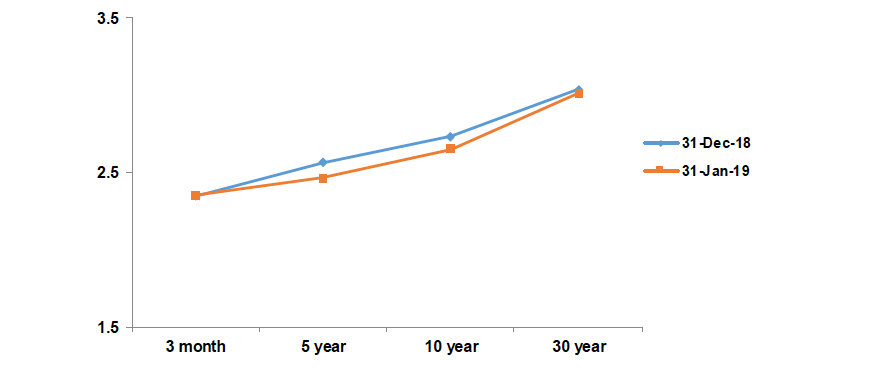 Source: MarketQ quotation platform, www.esignal.com
International and Emerging Markets have generally mirrored January's US equity strength but likely remain vulnerable to any breakdown in trade talks. President Trump has alluded to meaningful progress in talks with Chinese representatives and expectations are growing that a deal will be reached when he meets with President Xi in the coming weeks. As we have previously asserted, the negative effect on China from US tariffs has been substantial. If true, this suggests that Chinese negotiators should be highly motivated to address and satisfy US concerns about the ongoing theft and required transfer of intellectual property, required ownership participation and barriers to our agricultural and manufacturing products.
In the UK, Brexit occurs in less than 60 days. PM May last week attempted to submit a revised negotiated plan to Parliament but failed to garner sufficient support to call a vote. There do not appear to be viable alternatives to a simple discontinuation of the UK/EU relationship in advance of the deadline, at this point.
In December 2017, the UK agreed to pay an exit fee of ₤39 billion as the first of three steps toward a negotiated "divorce." Sentiment in Britain however, with simple separation pending, is that without a structured deal, these funds should not be remitted. The EU, predictably, has dismissed this position. The EU has stated that failure to pay the exit fee will be a breach of contract. A legal battle is likely to ensue.[5]
Closer to home, Venezuela's political and economic situation has worsened considerably over the past two weeks. The country's May 2018 elections were deemed fraudulent by the National Assembly earlier in January. Article 347 of the Venezuelan constitution was subsequently invoked, appointing the head of the Assembly, Juan Guaidó, as acting President pending new national elections. Not surprisingly, the previous President, Nicolás Maduro, has resisted the transfer of power, citing his reelection last May. Maduro supporters maintain that he remains the rightful President of Venezuela.
The US and numerous members of the Organization of American States have recognized Mr. Guaidó as the legitimate leader of the country. Suffering from a nearly 1 million percent annual inflation rate and widespread food and basic needs shortages, Venezuela may well be lurching toward civil war.[6]
China, Russia and Iran have all made overtures to Mr. Maduro over the past several years, seeking military bases. The developing political and humanitarian crisis is generating calls for President Trump to invoke the Monroe Doctrine, as Mr. Maduro reaches out to Russia and others for support. The Doctrine states broadly that the US will not tolerate non-hemispheric powers establishing bases of operations in our "neighborhood.
Venezuela possess the world's largest estimated petroleum reserves.[7] On January 30, the US announced sanctions on its national oil company, PDVSA, embargoing payments for its oil shipments into accounts not accessible by the Maduro regime. Little impact on crude prices has resulted however, due primarily to the ability of the US and Middle Eastern allies to compensate for any supply shortfalls.
World equity prices remain well below 2018 highs despite a strong recovery that has now lasted more than a month. Volatile markets continue to whipsaw those attempting to tactically position themselves or to predict price movements, reinforcing our belief that a prudent, rational investment philosophy remains the most effective means to achieve financial success.
Byron A. Sanders
Investment Strategist,
Artifex Financial Group

[1] "Fed Signals Hold on Rate Increases" www.wsj.com, January 30, 2019.

[2] Ibid.

[3] Ibid.

[4] December 2018 Consumer Price Index data, www.bls.gov.

[5] "BREXIT BOMBSHELL: EU's plot to make UK pay £39BN EVEN in no-deal divorce – REVEALED," www.express.co.uk, January 27, 2019.


[6] "Venezuela crisis: How the political situation escalated," www.bbc.com, January 24, 2019.

[7] "The World's Largest Oil Reserves By Country," www.worldatlas.com.