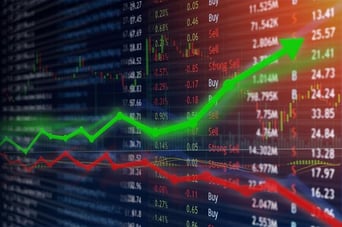 Good morning,
Equity markets worldwide have been correcting since their most recent peaks during the last full week of July. Yesterday, August 5, the correction accelerated resulting in roughly 3% losses for most broad based indexes. After declines of roughly 6% US equity indexes remain above their early June lows. It is conceivable that yesterday's global equity rout was a selling climax. But it is equally possible that the downward momentum of a violent selloff could persist. S&P 500 futures have rebounded from additional late night losses and early this morning are trading with gains of approximately .80%. Regardless of what today and succeeding sessions have in store we want to reiterate several important points:
• Significant market events don't change our investment philosophy. Whatever the media says about the reasons for yesterday's decline, their rationale is noise. Declines in the context of a long-term investment plan and horizon are inevitable and expected. Measuring an investor's risk tolerance is one way we prepare for periods of negative performance. Your portfolio was designed with uncomfortable equity performance in mind.
• This is not 2008-9. The US economy is strong based on virtually any statistical or anecdotal measure. Credit is freely available to consumers and businesses and remains relatively cheap. The Federal Reserve cut its Fed Funds interbank lending rate ¼% last week to a range of 2%-2 ¼% but credit market participants are continuing to put downward pressure on rates. At yesterday's close of trading the US Treasury 3-month T-Bill yield had dropped to 1.95% with other maturities continuing to fall as well. Credit market action is sending a strong signal to the Fed that rates at the short end of the yield curve remain too high. Chances of a further cut at the Fed's next meeting in late September are virtually 100% based on futures markets. In short, it's difficult to be concerned about a growing economy in the context of softening interest rates and plentiful credit.
• China has now played its last card in the trade conflict with the US. Yesterday's devaluation of the Yuan is designed to counter the effect of tariffs the US has assessed on Chinese imports. By reducing the exchange rate against the US greenback, consumers and businesses in the US will get a short term equalization to offset tariff based cost increases on imports from China. Currency devaluation, however, will inevitably result in inflation for Chinese consumers and businesses since more Yuan will be needed to purchase goods imported from the US. As we have observed previously, the US holds the upper hand in these trade negotiations or to put it simply, China needs the US more than the US needs China. Businesses that thrive on exports to the US are moving out of China to avoid our tariffs and Chinese domestic GDP growth is at its lowest level in almost three decades. US tariffs scheduled to be implemented September 1 will hurt China. A lot.
• This is a good time to ignore the financial press. Bad news sells and we can be assured that whatever scenario scares the most investors will be the one featured by the pundits. Based almost exclusively on opinions, these programs are, in general, nothing more than noise.
Volatility is expected and normal in equity markets. Calm periods are interspersed with bursts of extreme volatility, up and down. The health of US businesses and their future earnings are the ultimate drivers of equity prices. Companies that rely heavily on production in or export to China are experiencing weakness in their share prices as investors discount the impact of this trade conflict on their P&L statements. It is likely that this discounting will be efficiently reflected in prices quickly.
Yesterday's decline is a real world example of the risk associated with equity investment, but it is important to remember that long term gains are inevitably built on this type of short term volatility. Further losses are certainly possible within the context of a correction from new all-time highs less than two weeks ago. But in a longer view, the Federal Reserve is likely to further cut interest rates, the US economy remains robust and inflation is well below the level of short term credit costs. Investors are experiencing the risk of equities at present but should make sure to maintain positions to reap the reward when prices recover. As the old saying on Wall Street goes, "They don't ring a bell at the top or the bottom."

Byron A. Sanders
Investment Strategist