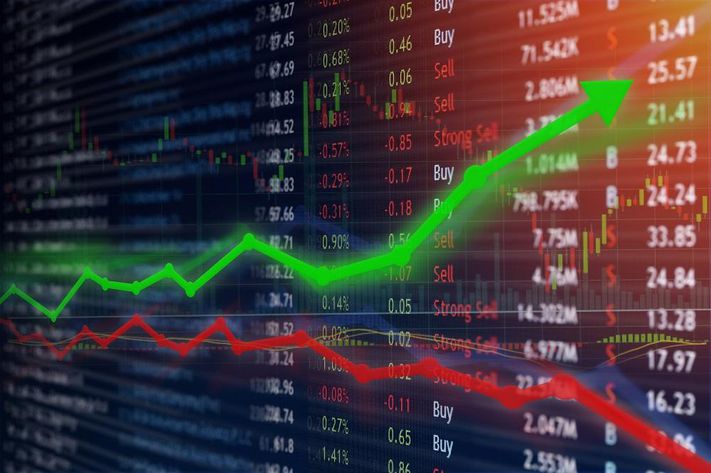 Strong Finish
December 17, 2019
Global equity prices have moved higher during the first half of December, building on late November's gains. In the US, broad benchmarks are roughly 1.5% higher since November 30, however, International stocks have been much stronger on a relative basis. The MSCI EAFE Index of Developed Markets has gained 2.4% since November 30 while the MSCI Index of Emerging Markets has jumped 4.2%.
The last two weeks are one of the very few periods over the past year that International equities have outperformed their US counterparts, albeit, for only an approximately two week span. On the other hand, US indexes, throughout 2019, with a few exceptions, have repeatedly scored all time highs. Non-US equities remain well below their comparable peaks. The chart below shows closing prices for the S&P 500 for 2019 through December 16.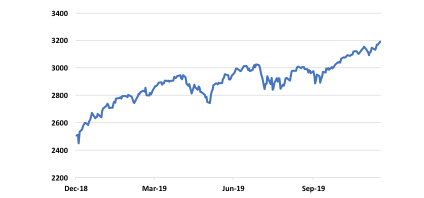 Source: QuoteStream online quotation platform. www.quotestream.com
Through the December 16 close, before the impact of reinvested dividends, the index has gained 27.3% for the year, making YTD 2019 the best since a better than 30% gain in 2013. While this composite of the largest US companies has posted a series of new all-time highs this year, International equities remain significantly below their comparable highs, registered in the Fall of 2007.
The MSCI EAFE Index remains more than 18% below its best ever level. Emerging Markets have mirrored Developed Markets with the MSCI Emerging Markets index more than 22% below its comparable high as of December 16, 2019. These indexes registered their last all-time highs at the end of October 2007.
Equity prices reflect investors' expectations of future returns or cash flows, from individual companies. A simple explanation for the wide disparity between the performance of US and non-US equities is that our economy has been far stronger than other global countries since recovery from the 2007-2009 recession.
The US economy created 266,000 jobs last month, far exceeding estimates of 187,000. September's and October's numbers were revised upward by an aggregate of 41,000. November's results were the largest increase since January 2019's 313,000.[1]
The Unemployment rate declined .1% to 3.5% in November and wage growth continued to outpace inflation, posting an annual increase of 3.1%, slightly better than consensus estimates. New employment was spread across a variety of sectors and notably included an increase of 54,000 in manufacturing, exceeding the approximately 41,000 jobs restored by settlement of the recent GM strike.[2]
Will this trend continue? Of course, we cannot know the answer to that question. Recent evidence suggests that while US economic expansion remains robust, outside our borders economies are beginning to grow once again. Except for the EU, which remains mired in de facto recession, many countries, including China, appear to be at least no longer shrinking if not emerging from a multi-year growth slump.[3]
A strengthening global economy is positive for the US, which has managed to remain in an expansionary mode even as trading partners suffered slowdowns. Two significant developments in the past week are expected to help not only the US but also the entire global economy.
First, House Speaker Nancy Pelosi announced a "deal" had been reached that should pave the way for passage of the US, Mexico, Canada Agreement (USMCA) before year end. The agreement had been finalized by negotiators in late 2018.
The USMCA could add 176,000 jobs in the US. Key groups expected to benefit are auto workers, where a potential 76,000 new jobs have been identified and dairy farmers, who will have the ability to increase exports to Canada and Mexico by up to $33 billion annually.[4] Additionally, poultry and egg producers will be able to triple current export levels to Canada.[5]
Second, is last week's announcement that a Phase 1 trade agreement between the US and China has been finalized. While the reported 85 page document has not yet been released, what is confirmed is that tariffs scheduled to be applied to Chinese goods as of December 15 have been deferred.[6] The Chinese government has also suspended their tariffs on US made autos and important agricultural products.[7]
Both the Chinese/US agreement and the USMCA are significant trade milestones. Until details of the Phase 1 agreement are released markets will have only the benefit of reduced tensions and broad information to ponder, but logic suggests that positive surprises will be discovered in those details.
We cannot overemphasize the importance of these agreements. Almost like a significant change in domestic tax policy, the resumption of free flowing trade with China and increased exports on the North American continent will have far reaching, ripple effect benefits for US companies and consumers.
In our November comments, we noted that polls in the UK were tightening as the General Election approached. The ultimate results delivered a staggeringly different result from that suggested by 11th hour national polls.
The Conservative Party won its largest Parliamentary majority in over 30 years. The Labour Party, which backed a second Brexit referendum, emerged with 203 out of 650 seats in the House of Commons, its lowest number since 1935. Conservatives now hold 365 seats, an 80 seat majority when other splinter party contingents are included.[8]
Conservative party candidates pledged to implement Brexit. Many long term Labour districts flipped to the Conservatives. In addition to the Brexit question, economic and immigration policies advocated by Labour were soundly rejected by the electorate.
We can't know the implications of the UK election, if any, for the 2020 US elections, but clearly, UK voters have tired of resistance to Brexit and a majority do not seek greater government influence in their lives. A bilateral trade agreement with the UK once Brexit is consummated is likely, based on public comments by President Trump and PM Johnson. The results of a US/UK agreement will interest EU nations contemplating the possible economic impact of similar bilateral agreements.
House committee hearings have finished and the Judiciary Committee has adopted Articles of Impeachment for only the third time in US history. A floor vote is expected this week and while two Democrats have indicated their intent to vote against the Articles at this writing, adoption remains more likely than not. A Senate trial would ensue in January. We continue to expect the President to remain in office.
As a stellar year for equities draws to a close, investors can be forgiven for marveling at the disparity between impressive equity market gains, stable interest rates, a strong, enduring economic expansion and Democrats' decision to impeach the President less than 11 months before the 2020 election.
We defer to markets for guidance and while the DC political process in motion appears inexorable, the ultimate verdict will be rendered by voters and investors. So far, those willing to remain invested and to be patient with trade negotiations and political rancor have been well rewarded, reinforcing yet again that having a plan, a philosophy and sticking to both is the best path to investment success.
Byron A. Sanders
Investment Strategist
©2019 Artifex Financial Group LLC
[1] "Jobs growth soars in November as payrolls surge by 266,000," www.cnbc.com, December 6, 2019.
[2] "Employment Situation Summary," www.bls.gov, December 6, 2019.
[3] "Global Economy Steadies but Europe Remains a Weak Spot," www.wsj.com, December 16, 2019.
[4] "One Year Later, It's Time To Vote On USMCA," www.forbes.com, November 30, 2019.
[5] "Got Trade? Dairy Farmers Stand to Gain From the USMCA," www.wsj.com, December 13, 2019.
[6] "Trump Says U.S. Will Scrap Dec. 15 China Tariffs, Others Remain," www.bloomberg.com, December 13, 2019.
[7] "China suspends tariffs on US-made cars, corn and other goods amid new trade truce," www.cnn.com, December 13, 2019.
[8] "A Tory Triumph in Britain," www.wsj.com, December 13, 2019.