January 10, 2019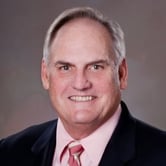 A new year lies before investors. Most were happy to see the end of 2018 with its staggering volatility and almost commonplace 1-2% intraday swings. In this essay, we attempt to identify economic and political trends across the globe that can be expected to be among the key components of decisions to buy or sell equities in 2019.
Equity prices reflect the collective opinions, hopes, fears and experiences of market participants. News is disseminated virtually instantaneously and reflected in prices without delay. While we cannot foresee how, or which future developments will most affect the equity markets this year, it is useful to be aware of trends that could be germane to investor decisions.
Summary
We believe there are four areas of interest and concern for investors that can be expected to exert influence on markets this year:
· Brexit and emerging populist movements in Europe and lately, South America
· Trade conflicts that have resulted in negative economic consequences for many International Developed and Emerging Market economies, especially China
· Uncertainty surrounding the Federal Reserve's future monetary policy.
· The Middle East, its potential impact on global oil supplies and the extent of future US military deployment in the region
Populism
In June 2016, UK voters approved a referendum mandating the termination of European Union (EU) membership. To date, an exit package negotiated by PM May with the EU has met firm resistance in the British Parliament and scheduled approval/disapproval votes have been postponed. Brexit opponents ("Remainers") argue that terms presented by PM May were not included in the 2016 vote, invalidating the results. The "Leave" side maintain that the vote was binding and designed to eliminate EU membership.[1]
We expect that a "no deal" Brexit will be the result of the current impasse, in which the UK leaves the EU and reverts to status as a sovereign member of the World Trade Organization. Despite widespread hand wringing about unforeseen and unintended consequences in the British press[2], we don't currently see a path leading to material interruption of existing trade avenues when EU membership terminates.
In Brazil, new President Jair Bolsonaro has laid out an aggressive agenda. In it, he includes initiatives to accomplish meaningful domestic fiscal and criminal justice reform as well as an end to rampant government corruption.[3] His administration appears to be aligned philosophically with the national sovereignty political movements that generated Brexit, the Gilles Jaunes in France, street demonstrations against illegal immigration in Germany and attempts to implement populist based economic policies in Italy.
While domestic unrest and political movements in other countries are of interest, there is at present little we would expect to directly affect US investors, unless the protests begin to hamper economic activity in those countries. The EU and the UK are major trading partners for the US and disturbing those relationships would have a negative impact on US exporters. Expect little impact on US equity markets from populism and national sovereignty movements if existing trade relationships remain in place or are revamped.
Trade
President Trump, in his 2016 election platform, promised to renegotiate existing trade pacts and to review any pending deals from the standpoint of fairness to US workers. In 2017, he withdrew the US from the proposed Trans-Pacific Partnership agreement and last year a reconfiguration of NAFTA with Mexico and Canada was completed. The new deal faces an uncertain path to implementation if House Democrats cannot be brought on board. In addition, the framework of a bilateral agreement with South Korea has been established and negotiations are well along with Japan and the EU.
China remains the trade outlier, but in the waning days of 2018 hope for long-awaited changes in China's approach to foreign businesses and import restrictions began to grow.[4] Public details have been limited to broad statements of progress, but should negotiators resolve the issues of intellectual property theft, business ownership and import tariffs, expect the year long decline in the growth rate of China's economy to begin to reverse.
The US cannot long endure as an economic island. We need foreign purchases of our exports and for producers of goods we import to remain viable. The President's approach to negotiations has been to present demands and hold firm in the belief that trading partners need the US more than the US needs them. Last year's renegotiation of NAFTA provided at least some evidence that the President's policy of "trade war chicken" can be successful. Expect further completed negotiations to begin to restore economic growth outside US borders. Growth that will benefit many sectors of our economy and provide fuel for renewed export revenue expansion.
US Monetary Policy
Interest rates began to impact US equity markets in early 2018 as employment gains and wage increases suggested to some observers that the US economy was on the verge of overheating and poised for accelerating inflation.
Widespread criticism of the new Chairman, Mr. Jerome Powell, focused on a belief that the Fed was hellbent on strangling the economy.[5] In our opinion, nothing could be further from the truth.
The US economy emerged from nearly a decade of subpar growth in 2017 as annualized GDP growth began to move above the under 2% average that had been widely billed as a "new normal." The Fed began a program of "measured" rate hikes as it judged that the economy had become sufficiently resilient to withstand higher short-term interest rates.
The increases in short-term borrowing costs over the past two years have given the Fed flexibility to counter any softening of the US expansion by lowering rates, an option that did not exist at levels near zero. But with inflation and short rates essentially at parity, there is currently no apparent need to apply further monetary braking.
Expect the inflation rate and wage growth to drive Fed policy this year.[6] As world economies slow, the US risks being caught in the same situation if rates are raised too quickly. The Fed has rightly modified the extent to which it intends to continue raising in 2019 to a "wait and see" posture.[7]
The Middle East
Several weeks ago, President Trump announced he was ordering the "immediate" withdrawal of US troops from Syria. On a subsequent unannounced trip to Iraq, he debunked the notion that our intent is to totally withdraw military forces from the region. He also indicated that the US will maintain a force presence in Iraq to respond to regional problems but that in Syria, we are now able to hand off our mission to allies.[8] According to the President, the mission to destroy ISIS has been largely accomplished and mopping up can be safely left to allies.
Iran remains the largest threat to stability in the Middle East. After the US withdrawal from the JPCOA last year, Iran vowed to continue development of nuclear capabilities and indeed has recently announced it will launch a satellite into orbit. This is disturbing as the launch will dually serve as a test for Iran's ICBMs, which could also be utilized to deliver a nuclear weapon.[9]
2019 could well be pivotal for Iran's ruling class. Sanctions against Iranian oil exports took effect in early November 2018 and are now beginning to bite as most existing purchasers look elsewhere for supply. Crude prices have declined significantly since the sanctions took effect, despite virtual elimination of a major world supplier from the marketplace. We believe this reflects new US prominence as a net exporter of petroleum.
Containment of Iran's longtime ambition to establish a land bridge of influence to the Mediterranean has been a consistent US policy. Whether our allies will be able to assume the burden and risk of resisting Iranian hegemony will ultimately determine the extent to which US forces can be withdrawn from the region. What has changed in the economic equation is the lack of substantial impact on world crude oil prices with every flareup of conflict or threat of conflict. US oil producers have virtually eliminated substantial threats to world oil supplies barring an outbreak of war between major powers in the region. Expect continuing military action and political turmoil in the region this year, but less than usual impact on oil prices as Saudi Arabia and Turkey jockey to lead the anti-Iran coalition. The below details the dramatic increase in US crude production over the past four years.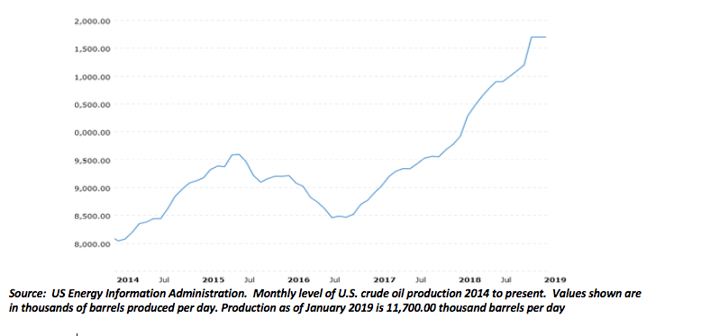 Source: US Energy Information Administration. Monthly level of U.S. crude oil production 2014 to present. Values shown are in thousands of barrels produced per day. Production as of January 2019 is 11,700.00 thousand barrels per day
Conclusion
Global equity markets paused during the fourth quarter 2018 in a roughly 20% downward correction of the 2016-2017 bull market. Trade conflicts, tariff wars and a strong dollar negatively impacted the performance of International Developed and Emerging Markets equities during the year, but so far, there has been only limited spillover impact visible in US economic statistics. Domestic equity markets have clearly discounted potential future negative effects on US companies, but no empirical data to date suggests a slowing of the ongoing expansion.
Populist movements in Europe and now South America, are gaining momentum and can be expected to exert increasing influence on governments surrounding issues of taxation, immigration and economic opportunity. Brexit's drop-dead date of March 29 looms as a pivotal point in the success or failure of voter efforts to redirect governments previously dedicated to pursuing globalist policies at the expense of individual countries' sovereignty.
The US' emergence as the world's leading oil producer has diminished the price impact of supply disruptions in the Middle East, providing flexibility to increase containment efforts of Iran's expansionist aims. The virtual demise of ISIS has refocused attention on Iran's efforts to extend its influence over the affairs of its neighbors. This year will most likely see a handoff of greater responsibility for regional stability to Saudi Arabia and Turkey, assuming requested and required guarantees are obtained, especially from Turkey, regarding aims in Syria. The US is expected to maintain a military presence in the region but is concentrating assets in Iraq as a centralized base of operations.
Investors endured a rough quarter recently and a year of negative performance in 2018. As 2019 progresses, maintaining a disciplined investment approach will be crucial to avoiding missteps that could severely impact chances for long term success. As we have witnessed in the past few weeks, missing even a single day of positive performance by trying to avoid downside vulnerability can be tremendously costly and significantly diminish overall net returns.
Byron A. Sanders
Investment Strategist, Artifex Financial Group

[1] "Confused About Brexit? Here's What You Need to Know," www.washingtonpost.com, December 8, 2018.


[2] "Brexit Consequences for the U.K., the EU, and the United States," www.thebalance.com, January, 2019.

[3] "What you need to know about Jair Bolsonaro, Brazil's new far-right president," www.vox.com, January 2, 2019.

[4] "The US-China Trade War: A Timeline," www.china-briefing.com, January 10, 2019.


[5] "Looming Interest Rate Hikes Could Slow The Economy," www.forbes.com, October 25, 2018.

[6] "Fed hikes rates, but signals just two more hikes in 2019," www.finance.yahoo.com, December 19, 2018.

[7] Ibid.

[8] "U.S. forces will stay in Iraq and could reenter Syria from there, Trump says," www.washingtonpost.com, December 26, 2018.

[9] "Iran announces plan to launch 2 satellites into orbit on domestically made rockets," www.foxnews.com, January 10, 2019.