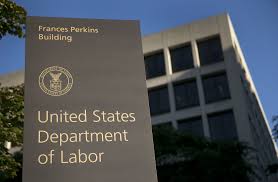 A couple of weeks ago, I dragged along a copy of the Federal Register, Vol.80, No.75 with me to the pool. I thought I should read this bland-looking publication as it directly relates to the investment advisory business. It actually was a bit more intriguing than first thought, and it appears that the Department of Labor and the Employee Benefits Security Administration may have a better grasp of the problem of advice as it currently stands for defined contribution (401(k), 403(b), 457, etc.). the purpose of the report is to propose new rules regarding how advisors to retirement plan participants (and IRA holders) represent themselves and to possibly impose a requirement that they serve as fiduciaries (client-first advice). It's somewhat amazing that this is even up for debate, but through the years, most advisors, brokerage firms, banks, etc. have not had a requirement to put the clients first. This is the reason most won't give you specific advice on your plan investments, and only present a long laundry list of funds for you to choose from with practically no guidance.
Now, stay with me, because this matters. Whether you are a plan sponsor (company, educational institution, hospital, etc.) or a participant, you need to know some of what is in this report. Much of it is not a surprise to us, as when we founded our firm, we knew there was a better way (the fiduciary way) to advise clients on their wealth and retirement accounts. We knew that most of the advice out there is conflicted, costly, and full of hidden kickbacks and commission arrangements to many who call themselves "advisors" (spoiler alert - the only type of advisor you should consider is one who is Fee-ONLY, NOT Fee-Based, or as someone recently said to me, "Fee-based-only").
Now here are some interesting tidbits direct from the Department of Labor: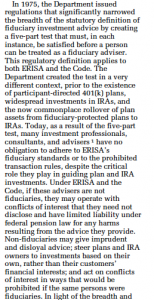 Interesting, huh? Especially the admission that "many investment professionals, consultants and advisers have no obligation to adhere to ERISA's fiduciary standards or to the proposed transaction rules, despite the critical role they play in guiding plan and IRA investments." Bet you didn't know that, did you? That perhaps the advisors to your plan are not required to put your interests first? Maybe that helps to explain the miserable performance of many retirement plan offerings, and the tremendous costs involved.
But wait there's more. Pay particular attention to the first paragraph below:
Finally, how about this little tidbit: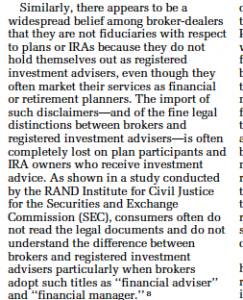 Did you catch all of that? Really, what we've known and said for years is in fact a reality. There's a lot more in this report, but I was stunned by the acknowledgement of the current state of the retirement plan industry.
Regardless of the outcome, the remedy is clear. Only hire fiduciary fee-only plan advisors such as ourselves. Whether you are a plan sponsor or plan participant, we will agree to our fiduciary status in writing, accept only the compensation that you and we agree to, and always place your interests first. That's really the least you should expect when it comes to perhaps the most important investment program you'll ever have.