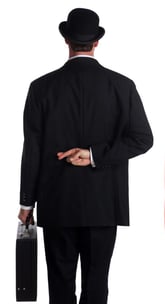 If you are looking at investing your hard-earned money, then at some point you will probably interact with one or two money advisors. It is critical that you understand the differences between fiduciary vs. non-fiduciary advisors because very different standards apply to their advice, their practice, and the effect both have on your money. You'll want to keep in mind these things:
Asset Management v. Advice: An advisor that is solely a Registered Investment Advisor (RIA) that has access and control over your financial accounts and who manages your investments is a fiduciary. A fiduciary is in a trusted position. On the other hand, a broker or "fee-based" (as opposed to "fee-only") advisor who earns commissions by selling investment products (insured contracts or stocks or other investment vehicles) and helps clients decide what products would be suitable for them is a non-fiduciary. Non-fiduciaries do not manage assets or have access or control over your financial accounts. Their own compensation motivates non-fiduciaries which means they have a bias toward certain products that earn them more money. More importantly, as we discuss in more detail below, until the Department of Labor issued its new rules this year, brokers were not required to give advice in your best interest.
Good Faith and Best Interest Standards: Federal law requires that fiduciaries act in the best interest of their clients (putting the best interest of their clients above their own) and in good faith. Fiduciaries who are Registered Investment Advisers owe undivided loyalty to each client to whom they owe a fiduciary duty. The Securities and Exchange Commission (SEC) enforces the federal standard set forth in The Investment Advisors Act of 1940 and oversees Registered Investment Advisers.
Suitability Standard: Non-fiduciary investment brokers owe a lower standard of care to their clients. We refer to the standard as the "suitability standard" which means brokers should steer you toward products suitable for your individual situation, your needs and goals. Suitability means transaction costs are not excessive and that the broker does not "churn" an account to make more commissions. The Financial Industry Regulatory Authority enforces the suitability standard through self-regulation.
Conflict of Interest Standard: Fiduciaries are duty-bound to avoid any activity in which there is a potential conflict between the fiduciary's interests and their clients. Investment Advisers also must execute trades under what is known as the "best execution" standard. That means that Investment Advisers must execute trades using the lowest cost possible in an efficient execution.
Disclosure of Conflicts: It sometimes happens that a conflict of interest arises after the financial management process begins. If this happens, the fiduciary must immediately disclose the conflict to the affected clients. Investment Advisors must disclose any conflicts that interfere with placing the client's interests ahead of their own.
Full Disclosure: A fiduciary must provide full disclosure about any financial advice or aspect of the financial management of client funds.
As mentioned above, in April 2016, the Department of Labor issued new rules dealing with providing investment advice for individual retirement accounts. The new rules hold all financial professionals who work with IRAs or other qualified individual accounts to fiduciary standards. Brokers will have to disclose all compensation as well as conflicts of interest. Brokers have until 2017 to acknowledge their fiduciary duty to investors and then they have until 2018 before they have to comply. A political backlash from Wall Street and the insurance industry may have an impact on the new regulations. We'll have to wait to see how this plays out over the next year.
To read more about fiduciary vs. non-fiduciary advisors, read Mark Cussan's article in Investopedia entitled "Fiduciary Rule Prompts New Tech Products".
To talk more about fiduciary advisors, or investments, or anything else, please contact us. Artifex Financial Group is a fee-only Registered Investment Advisor and is a fiduciary.
To learn more, contact us for a complementary review: