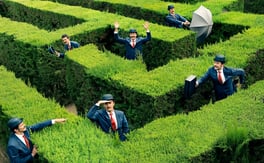 There are different kinds of financial planners to help manage your finances. There are the typical broker types who charge a commission every time they sell you a financial product. This is not so good because these brokers or salesmen are motivated by profit and do not always have your best interests at heart.
The fee-only financial planner does not sell actual financial products like mutual funds or stocks, but instead provides recommendations and helps you implement them. The fee-only planner charges a yearly fee for their professional financial advice that is available all year. They can help with any questions you have on estate planning, retirement planning, investemnt management, along with others. Below are 5 reasons to choose a fee-only financial planner.
1. They Look at the Whole Picture
A fee-only financial planner will look at your whole financial picture instead of trying to sell you specific products. This is very important because the purchase of investments can be tricky and hard to understand by the basic investor. The commission-based broker gets paid for not giving you advice, but instead for selling you financial instruments like stocks, bonds, mutual funds and annuities.
These specific products are not based on your whole financial picture, which is what a fee-only financial planning company can offer you. A broker can sell you stocks but doesn't really care about your financial future. A fee-only financial planner can give you the advice you need for insurance, estate and retirement planning. They will evaluate your financial position helping you create a plan of action for financial security.
2. A Fee-Only Financial planner is Usually a Fiduciary
A fee-only planner is usually a fiduciary, or person who is entrusted with your valuable assets. The fiduciary is expected to act in the best interest of the client and not solely as a way of just making a profit. They are expected to be legal and ethical during the financial relationship. The typical broker does not act as a fiduciary and is held to a much lower standard.
3. A Fee-Only Planner usually has Professional Affiliations
A fee-only planner will usually have a professional affiliation like Certified Financial Planner or the National Association of Personal Financial Advisors. This organization gives you the assurance that they are ethical and professional about the way they do business. On the other hand a typical broker will not necessarily have this affiliation. Having the NAPFA affiliation gives you the confidence that a fee-only planner has studied courses in ethics and others to provide a trustworthy experience.
4. Gives Advice Whenever You Need It.
The fee-only financial planner is paid to give you advice and not to sell you products, which you probably know nothing about. The advice and recommendations are ongoing and will cover all the meetings that are necessary. There is usually just a yearly fee, which covers the whole year. When choosing a fee-only planner the primary focus of the business is a comprehensive financial plan.
5. Financial Planning is Comprehensive
Another great advantage to using a fee-only financial planner is that they can provide total wealth management. They can help you with all areas of financial planning including retirement, estate and insurance planning. The wide range of financial areas include educational, goal setting, taxes and even cash management.
A broker who works on a commission basis will not be focused on your comprehensive financial plan, but only on selling stocks, mutual funds and other financial items, which you may not even really understand. With a fee-only financial planner they will help you navigate the many different areas of financial management while making recommendations.
Having a good financial plan is what a fee-only planner can do for you, not just selling you. They will give you the objectives, so that you can achieve your goals. Contact us, for any questions you may have about a fee-only financial planner.
To learn more, read our free whitepaper, "6 Failed Beliefs That Are Damaging Your Financial Well-Being, And What To Do About it"