First Quarter Market Comment
April 8, 2019
After a disappointing final quarter of 2018, global equity prices extended their post-Christmas
rally and posted very strong gains in the first quarter of 2019. Broad domestic benchmark indexes were standouts, but International and Emerging Market equities also delivered solidly positive numbers. US investors, especially, were cheered by the Federal Reserve's decision, announced in late January, to suspend the program of scheduled ¼% increases in their Fed Funds rate that had through 2018.
As the first quarter progressed, statistics began to confirm a slowing of GDP growth abroad. The financial press was quick to publicize speculation that a recession outside our borders would spread to the US economy, however as the quarter closed, myriad economic statistics confirmed that the domestic expansion that began to accelerate in mid-2017 is alive and kicking. The table below illustrates the performance of representative global and US equity benchmark indexes.

Clearly, the US was the strongest performer, but International Developed and Emerging Market equities, as measured by the MSCI EAFE and MSCI Emerging Markets indexes were substantially higher. Uncertainty surrounding Brexit resolution in the UK, weakness in several European economies, notably Germany, and China's 2018 trend of diminishing growth proved to be brakes on non-US equities. As the quarter ended, China released a government report suggesting that manufacturing activity, a key component of Chinese economic activity, had reversed its 2018-19 slump, at least for the moment. The Purchasing Managers Index survey of 3,000 businesses rose to a six-month high of 50.5% in March from 49.2% the preceding month, well exceeding expectations.[1] Measures taken by the Chinese government to cut taxes and stimulate growth with increased spending appear to have had the desired effect over the short term. Whether this unexpected surge represents the beginning of a new trend remains to be seen.
US equity markets have similarly risen and fallen over short periods in response to reports of a US/China trade deal nearing or hitting headwinds. President Trump has maintained a cautious optimism as the talks continue. From US investors' standpoint, the fact that talks are extending remains a strong positive influence on sentiment.
As the quarter ended, the broadest measure of US equity performance, the Dow Jones Total US Stock Market Index (DJTMI) closed just 3.9% below its all time high, recorded in September 2018. At its lows in December 2018, the index had been more than 20% below that high. Other domestic benchmark indexes have performed similarly, and many are well within striking distance of their highs at this writing. The chart below details the price movements of the DJTMI over the past year.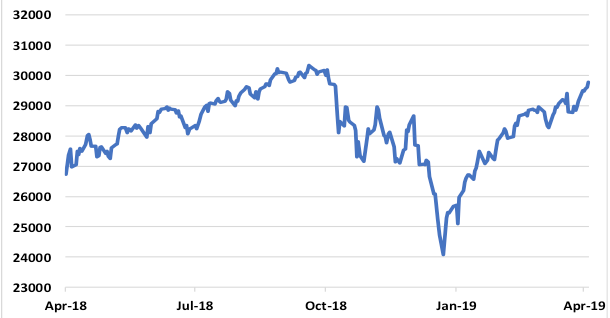 Source: MarketQ quotation platform, www.esignal.com
The first quarter recovery by this and other indexes suggests investors are looking well beyond speculation that a worldwide recession could develop and negatively impact US growth. The US Purchasing Managers index rose to 55.3% in March from the previous month's 54.2% level, mirroring the uptick in China. New orders were notably strong compared to the past several months, suggesting that the upturn in activity following a dip in February, may extend over the coming quarters.[2] Levels above 50% in both the Chinese and US indexes are considered to represent an expanding economy.
Crude oil and unleaded gasoline futures prices have risen 32% and 44% respectively since the beginning of 2019 through quarter's end. Undoubtedly, some of the strength in gasoline is the result of seasonal factors as refineries stagger shutdowns to switch from winter to more costly summer blends, but the appreciation of crude is likely more a result of supply issues. Recall that sanctions against Iranian oil purchases were instituted in November 2018 and as in transit cargoes have been delivered and not replaced with new shipments from Iran, a steady uptrend in crude prices has developed. Additionally, Venezuela, with the world's largest estimated reserves, has seen a precipitous decline in output as a result of the internal strife surrounding political control of the county.
The wild card in this situation is the US, a dominant producer of petroleum. With WTI crude now trading over $63/barrel, more domestic producers are returning to profitability and shut in wells not economically viable at lower price levels are coming back on stream.
The trend of commodity prices has frequently been a leading indicator of inflationary pressures in the economy. These highly volatile raw material, food and energy products quickly reflect supply and demand forces. While there have been no publicized reports suggesting supply bottlenecks or reports of dramatic price increases for raw materials, an uptrend in a broad index of commodity performance, the Dow Jones Commodity Index (DJCI) has developed. Grains, livestock and energy prices have been rising steadily over the past several months after lows for the index were registered in January. The chart below shows the movement of the DJCI over the past year.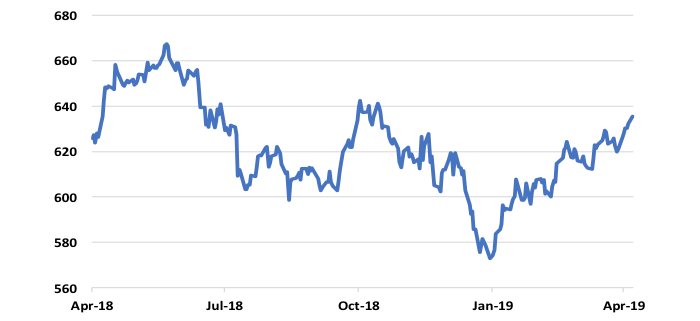 Source: MarketQ quotation platform, www.esignal.com
The index remains some 5% below its previous peak in late May 2018, however a new high for this index would suggest that the supply and demand balance is tipping further in favor of demand. As raw materials prices increase, manufacturers, who are having difficulty filling open jobs, will be forced to either raise end prices, in addition to wages, or to "bake in" reduced profits. We would expect to see a reaction in the bond markets should commodity prices begin to surge beyond 2018's highs. So far, the US economy has absorbed the uptrend with minimal apparent dislocation.
In political developments during the quarter, the long-awaited report from Special Counsel Robert Mueller was released without any findings of collusion between President Trump's 2016 campaign and the Russian government. The parallel investigation of whether the President had obstructed justice by firing former FBI Director James Comey did not reach a conclusion. AG Barr and his current deputy Rod Rosenstein, after evaluation of the report, concluded in a letter to Congressional committee chairmen, that no basis for an obstruction case had been discovered.
The report did not extinguish Democrat's suspicions and new investigations on other matters concerning the President are getting underway in the House. We expect Democrats to continue pressure on the Mr. Trump for the foreseeable future, or until a change in the House or Senate majorities occurs post the 2020 elections.
A second summit between President Trump and North Korean leader Kim Jung Un in February quickly ended when Mr. Trump decided to terminate the meetings. The stated reason was that the North Koreans have yet to fully commit to a verifiable schedule of de-nuclearization. Subsequently, reports of new activity at nuclear facilities fueled speculation that Kim is resuming nuclear development. Conversely, some analysis of the same satellite photos suggested that what has been interpreted as new construction is actually evidence North Korea is dismantling nuclear and missile capabilities. With opinions widely divergent about what is occurring in the secretive kingdom, one fact is that no missile launches or nuclear weapons tests have occurred since before the first summit between the leaders in mid-2018.
Europe remains deeply divided between the political forces of globalism and populism. Brexit is perhaps the best proxy for what is occurring. The British Parliament has been seeking a structural agreement with the EU to define the terms of their "divorce." The original deadline for exit was March 29 but was extended by agreement with the EU to April 12. Several attempts to have PM May's original Withdrawal Agreement approved by Parliament have failed. Dire predictions of economic dislocation, reminiscent of the controversy surrounding Y2K, have kept both Parliament and the British people in a state of confusion.
Parliament has attempted to remove a no-deal simple reversion to WTO rules as the default outcome of Brexit, but at this point, it is unclear that move has been successful. If the EU refuse to further extend the exit deadline, no structured plan will be in place and the relationship between the UK and the EU will be severed. The situation changes daily and what had previously appeared to be a hard deadline on March 29 has become a fluid and unpredictable chain of events. We believe that a no-deal Brexit remains the most efficient means for the UK to regain sovereignty, but Parliament appears to be fighting this result, tooth and nail.
Patient investors have been rewarded with significant gains through the first quarter of 2019. Economic activity in the US remains strong. Trade talks with China show promise of a resolution to corporate ownership constraints but little if any progress has been reported on the issue of intellectual property theft. China built its domestic economy by appropriating foreign technology. It is difficult to envision how this configuration can be altered without significant deleterious effect on their manufacturing and technology sectors. The slowdown in Europe has been exacerbated by uncertainty surrounding the future of Brexit and indeed, the EU as an entity. Exit movements in France and Italy have emerged, further threatening the viability of the alliance. We continue to believe that a disciplined investment philosophy focusing on an appropriate level of expected portfolio volatility remains the most prudent course for US investors in unsettled and uncertain political and economic environment.
Byron A. Sanders
Investment Strategist
[1] "China Manufacturing Gauge Hits Six-Month High," www.wsj.com, March 31, 2019.
[2] "March 2019 Manufacturing ISM® Report On Business®," www.instituteforsupplymanagement.org, April 1, 2019.