Normally we wouldn't talk taxes during the holidays, but with the impending tax law changes, we feel it is imperative to get you some of this information as soon as possible. For those of you who will be impacted by some of the new provisions, here are some of the important changes and some ideas on what you may want to do before year-end.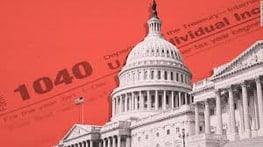 Some of the changes will be beneficial, some will be Grinch-like. If you have questions, please don't hesitate to contact our in-house tax specialist, John Girvin at john@artifexfinancial.com or call him at 855-752-6644
A Rough Summary of the New Tax Legislation That May Impact You (as we currently understand it)
by John Girvin, CFP, EA
The standard deduction is raised, but not quite doubled:
Single $12,000
Head of Household $18,000
Married Filing Jointly $24,000
In exchange, the personal exemption is eliminated.
Medical deductions that exceed 7.5% of AGI are once again deductible for both 2017 and 2018, but then revert back to the 10% floor in 2019.
The itemized deduction for state and local taxes, including property taxes, is capped at $10,000, unless directly related to business property such as a farm or rental property, which shifts these deductions to Schedules C, E, or F.
The home mortgage interest deduction is capped for new loans, and interest on home equity loans is no longer deductible. Depending upon the size of your home equity loan, it may be time to refinance to a mortgage and eliminate the home equity loan.
The cap on charitable contributions in cash is raised to 60% of AGI.
For those contemplating divorce, beginning in 2019, new or modified alimony payments will no longer be deductible to the payee, nor taxable to the recipient.
Moving expenses are no longer deductible, except for military personnel on orders.
Finally, the phase-out of Schedule A deductions for high-income taxpayers disappears entirely.
There are a multitude of other changes that are highly nuanced and selective (so much for simplification) that will need to be addressed individually, but that do not necessarily need immediate action.
Given the recent legislation, you may want to consider the following actions by year-end:
Delay as much income as possible, especially "small business" income, into next year.
Pay 4th quarter state and local estimated taxes
Pre-pay next year's residential property taxes
Accelerate charitable contributions up to 50% of 2017 AGI, but do not count on being able to deduct any carry-overs next year unless you are sure to exceed the new standard deductions in 2018.